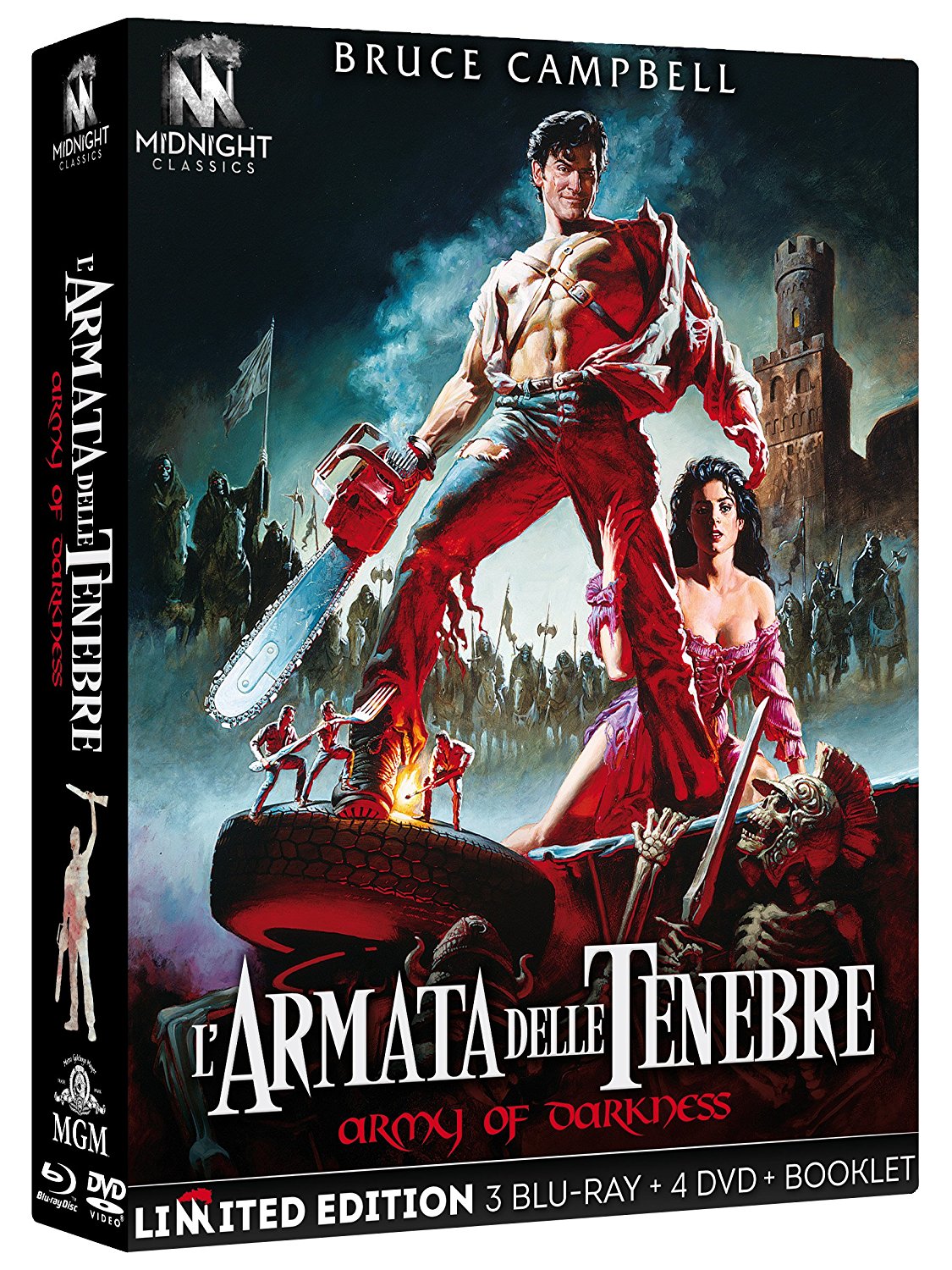 Trama
Allora idioti primitivi, sturatevi le orecchie! Vedete questo? Questo è il mio Bastone di Tuono! È un Remington a doppia canna, calibro 12, il migliore del mio supermercato. Lo si trova nel reparto caccia e attrezzi sportivi. Questo adorabile ma terribile aggeggio lo fanno nel Michigan, costa 100 dollari e 95, scontato. Ha il calcio in noce, le canne di acciaio blu cobalto e un grilletto sensibilissimo, proprio così. Magazzini S-mart, i migliori d'America. Avete capito?!
Cast
Bruce Campbell, Embeth Davidtz, Marcus Gilbert, Ian Abercrombie, Richard Grove.
Dati tecnici
L'Armata Delle Tenebre - Limited Edition (3 Blu-Ray + 4 DVD + Booklet)
COMBO 4 Blu-Ray + 3 DVD + Booklet
1) Blu-Ray/DVD International Version: Master Blu-Ray ottenuto da scan 4K. Extra-->AUDIO COMMENTARY: con il regista Sam Raimi,Bruce Campbell e il co-creatore Ivan Raimi. SCENE TAGLIATE (con commento opzionale di Sam Raimi e Bruce Campbell): Original Opening; Ash Confronts Arthur; Original Windmill Scene; Alternate Ending). TRAILER CINEMA: Trailer Tedesco, Americano, Inglese. Teaser, Spot TV; VHS Commercial. GALLERIA FOTOGRAFICA: Dietro le quinte; Gallery di foto inedite e rare; Storyboard di Scene Tagliate e Alternative.
2) Blu-Ray/DVD: Director's Cut.
3) Blu-Ray/DVD Theatrical Version
4) DVD EXTRA: Medieval Times: "The Making of Army of Darkness"; Creating the Deadites featurette; Making Of featurette; Interviste; Dietro le quinte; Video del set; Clip di interviste con Sam Raimi; Bruce Campbell e Robert Tapert.
E molti altri contenuti ancora!
" Forse non ho ripetuto ogni singola sillaba, ma grosso modo ho detto tutto… "
[gallery grids="Film" image_size="large" tiles="true" ids="3337,3338,3336,3339"]